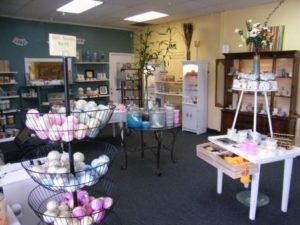 By: Bianca M. Strzalkowski
The hustle of life keeps people on the go from one commitment to the next, leaving little time for self-care. Donna Ferguson is hoping her products will offer some relief, albeit brief, from all those responsibilities.
The Maryland native first started making and selling spa-like products out of her home nine years ago. Ferguson, owner of SALT—Soak Away Life Troubles—sought to give busy customers a way to take a time out from their day. She sells handmade items online and at a brick and mortar location in Jacksonville, NC, where she moved when her husband, a United States Marine, was stationed there in 2007. By 2014, she expanded her virtual business to include a physical location and she has been a one-woman show ever since.
"I was sitting at the dinner table when I thought, I'm doing this. I always had the bug in me, so I literally jumped in," Ferguson said. "I didn't know what I was doing. It didn't dawn on me until after I was in here and all the adrenaline had subsided, I was like, 'Oh, my gosh.' I got to keep books… and I didn't know how to keep a budget as far as projections, so I spent my budget for three years in probably less than six months."
With no formal business training, Ferguson relied on her own research and resources from the local community college. As many owners can relate to, she does everything from the accounting and marketing to the inventory and budgeting. The learning curve has been challenging at times, but she looks forward to walking through those doors she built every single day.
All of SALT's products are handcrafted from raw ingredients and include bath bombs, lotions, soaps, and bath salts, among other items. The bath and body boutique has struggled with increasing foot traffic at their location, but Ferguson has started using a mix of different social media platforms—to include Facebook and Instagram—to reach new customers.
"I realized when I ran out of budgeting money for marketing, I needed to figure this [social media] out," she said. "I've always loved to put video out. I want people to know I'm creating these products. I'm not bringing in this big jug of something, slapping some color and fragrance on it, and presenting it to you as handmade. So, that's the reason I do the videos—because I want to be credible. I want people to know this is for real. When I tell you [the customer] my hands are on it, my hands are on it."
In addition to traditional and online sales, Ferguson markets her business at festivals around North Carolina.
"My major selling times are when I go to events. I start in March and I go all the way to December, on average two a month and some months I only do one," she explained.
However, Ferguson doesn't advise business owners to attend any and all venues, rather she suggests being selective because the expenses can ultimately outweigh the gains.
"You have to be strategic on the events you go to because there are fees involved and the cost to travel. And you have to see how many other businesses will be there like yours," she said. "I just repeat the same venues I've gone to the last three, four, five years because I don't have to sell the customer anymore. It becomes about repeat customers at that point."
As SALT continues to see growth, Ferguson's own vision for her company evolves. She plans to host workshops on location that allow attendees to learn how to make their own products.
"We want to be the boutique that lets men and women who don't have time to go to the spa to steal 30 minutes out of their day, or whatever they have, to do something for themselves and relax," Ferguson added.
To learn more about SALT and browse products, visit https://soakawaylifetroubles.com/.
DID YOU KNOW?
Video is the new blog. 60% of marketers are using video, and 73% plan to increase their use of video, according to Social Media Examiner's 2016 Industry Report.
Today's online audience is inundated with such a high volume of information that brands are constantly competing for their attention. The use of video allows companies to get on a personal level with their following and establish brand loyalty at the same time.
While practice does make perfect, even missteps during live streaming can create a conversation. We do recommend having some well-thought-out ideas as to what you are going to talk about because once it is on the internet, it is forever. But candid conversations also offer authenticity.
Powerhouse Planning's external communications services can guide your small business through establishing a video marketing strategy that keeps up with the times and pulls in a meaningful following. Learn more about how we work with businesses: Our Services.