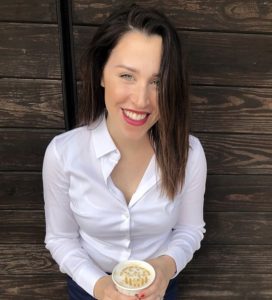 Katlin Neese is joining the Powerhouse Planning team as a graphic designer. She is a fellow entrepreneur, and her creative endeavors include product design, product placement, social media marketing, and fine art mediums. Katlin is the founder of Guac & Soul, a social media platform and lifestyle blog that supports small businesses and facilitates her passion for bringing ideas to life. On her platform she shares her artwork, nutrition tips, and nuggets from life with her two daughters, and she has collaborated with companies and various organizations to help spread the word about their products, services, and causes.
Originally from Pennsylvania, Katlin has lived abroad, attended school for fine art in Tennessee, and received her bachelor's degree in marketing while building her own small business. She now works at a nonprofit called CEED, The Center for Economic Empowerment & Development, outside of Fort Bragg, North Carolina. The military brought Katlin to North Carolina, but the rapidly growing city and potential are what made her put down roots.
Katlin loves to celebrate the success of others and support businesses through her art and marketing skills. From drawing portraits to designing store displays, she can be seen bouncing around lending a helping hand.